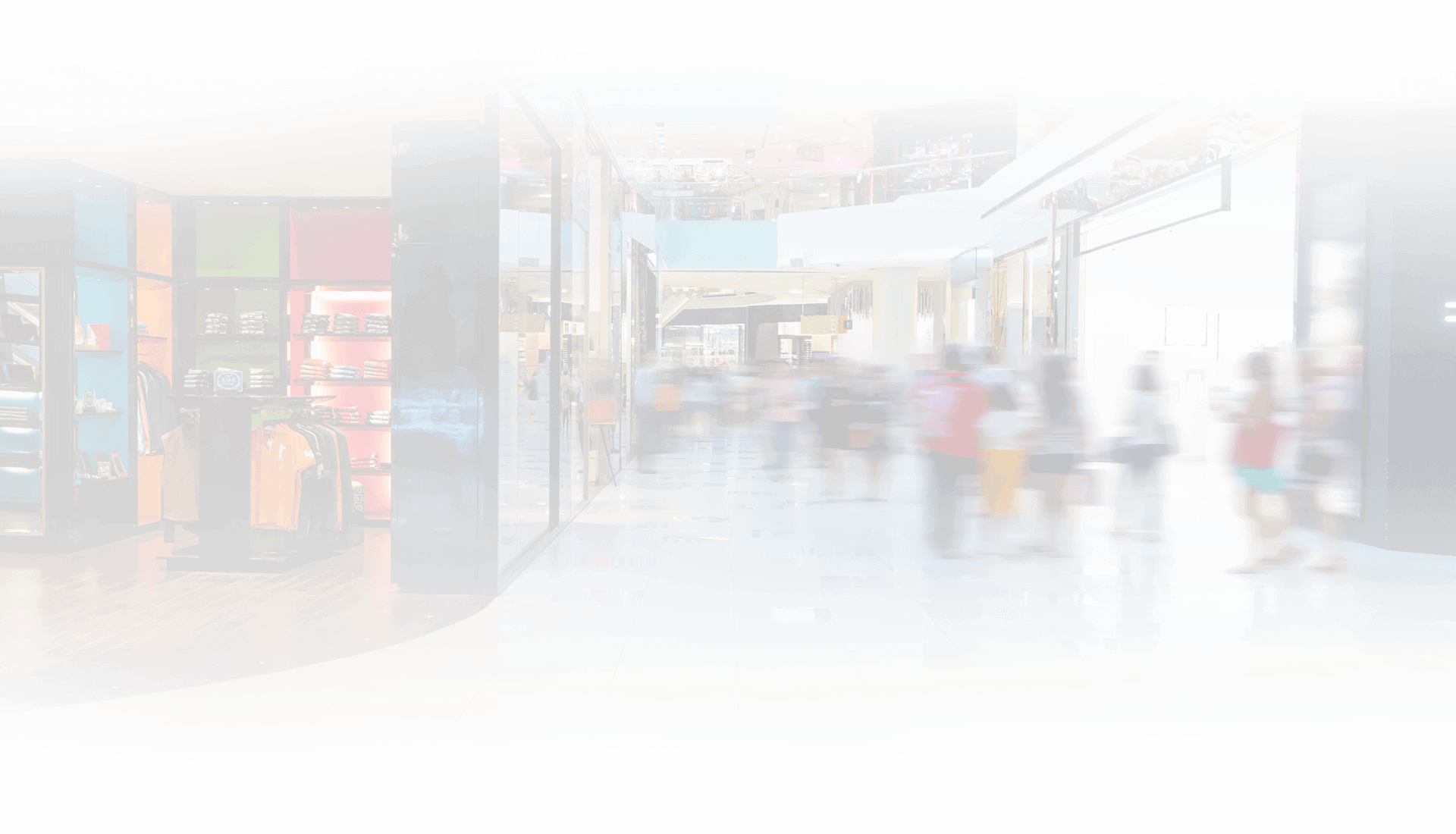 Enhancing Digital Experience for Hotel Guests
Equipped with Intel Celeron/Core-I CPU, ID verification and payment devices, Hotel Kiosk KS-HAX21(Series) is designed to speed up check-in/out process and also deliver a contactless and private guest experience.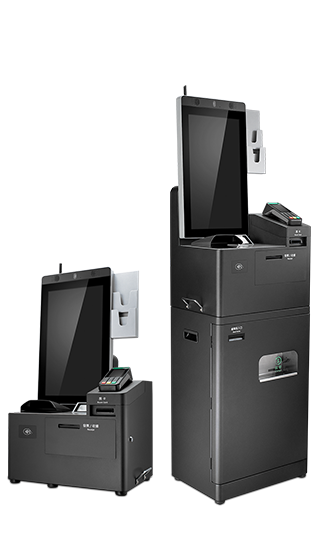 Ergonomic Design with Flexible Installation & Easy Implementation
Hotel Kiosk KS-HAX21(Series) can be positioned on the front desk for fast check-in/out or serving as a cash payment kiosk floor-standing in the lobby.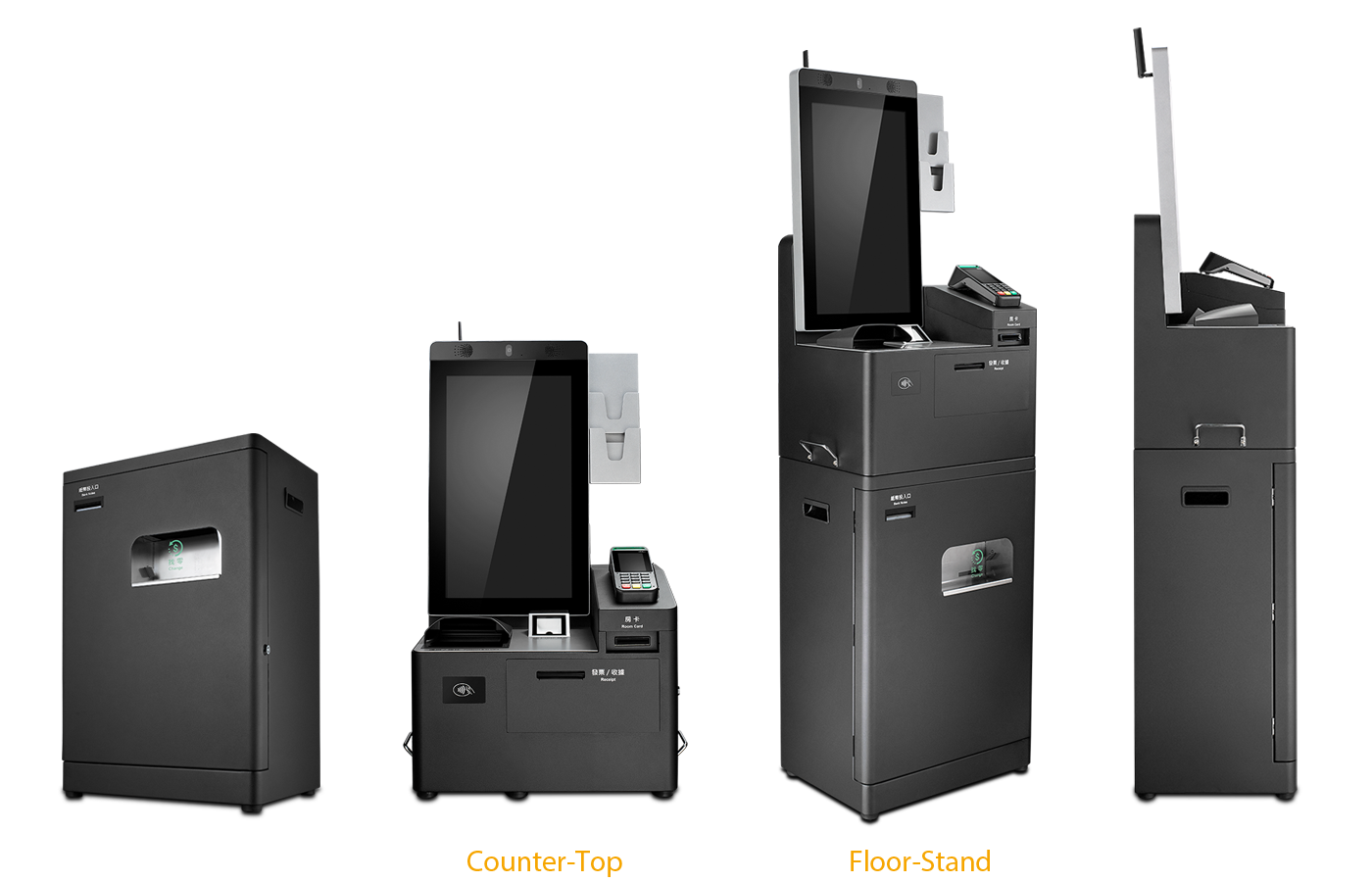 Device Integration for Hotel Self-Service
Integrated with OCR scanner and keycard dispenser, KS-HAX21 provides instant identity verification and a speedier self check-in experience.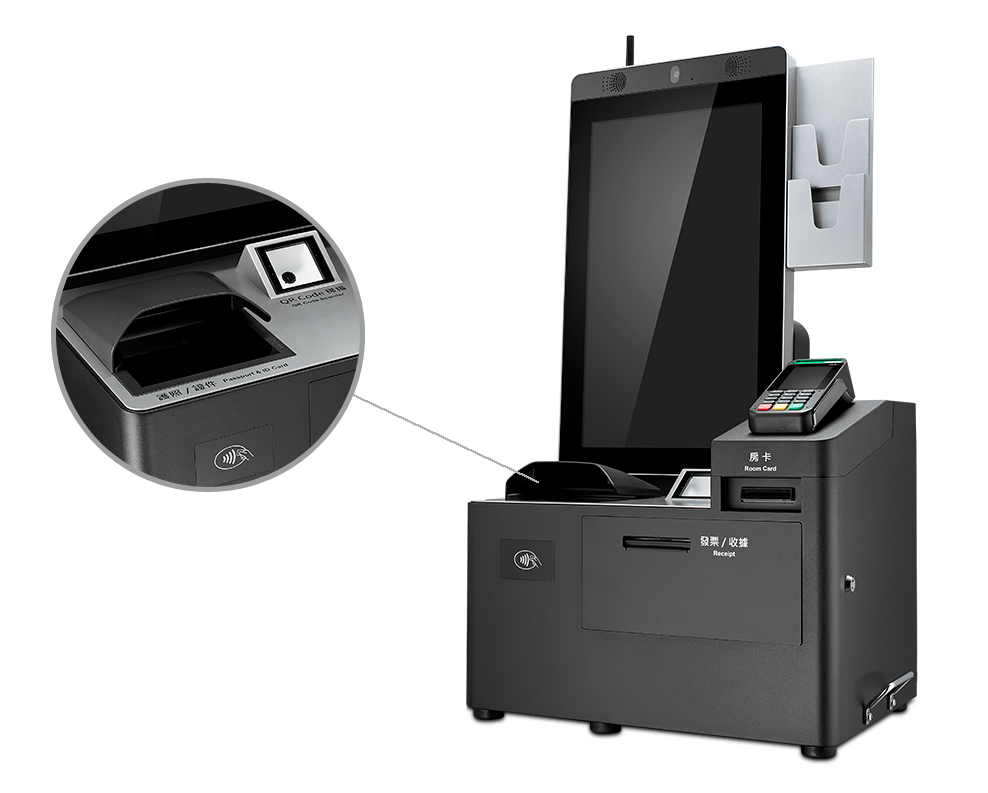 Modular Design with Various Peripheral Options
Integrated with bill acceptor, bill/coin dispenser, thermal printer, 2D barcode scanner, RFID/NFC reader, face camera, microphone and customizable EMV payment device bracket.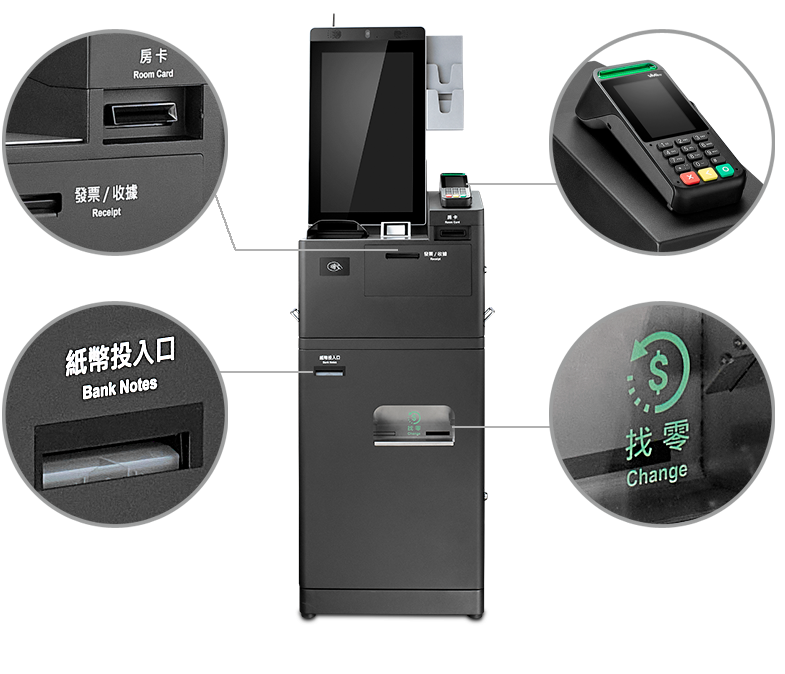 Specifications
Model Name
KS-HA521
Core Logic
Processor
Intel® Bay Trail-D Celeron® J1900
Quad Core (2M Cache, up to 2.42 GHz)
Memory
1 x DDR3L SO-DIMM, up to 8G
Storage
1 x M.2 M-Key SATA Slot
LCD Panel
Panel Size
21.5-inch VA LED Panel
Resolution
1080 (H) x 1920 (V)
Brightness
250nits
View Angle
89° / 89° / 89° / 89°
Touch Panel (Bezel Free)
True-Flat PCAP Touch (G+G)
RF Communication Wi-Fi / 4G LTE
Option
Visual Recognition Internal Camera
5M-Pixel AF Full HD Camera
Microphone
Directivity
Omni directional
Internal Speaker
2 x 5W Speakers
Application Peripheries
Passport Reader with OCR Scanner
Sensor : CMOS
Resolution : 500 dpi
Illumination : Visible, IR and UV(optional)
1D & 2D Barcode Scanner supported
ICAO 9303 Standard Compliant Documents :
- ID-1 (Identity Card)
- ID-2 (Passport, Visa)
- ID-3 (Passport)
Room Key Dispenser
Issue Cards Speed: 3 sec./card (excl. writing cards)
Card Capacity: Approx. 150 cards
Card Spec. : (W) 53.92~54.18 mm / (L) 85.47~85.90mm /
(T) 0.76mm±0.1mm
Contactless card Standard:
- Compliant with ISO/IEC 14443 Type A and Type B Standards
- Compliant with PBOC2.0, PBOC3.0 Standards
- EMV2000 Compliant
I/O Interface
External I/O
USB
2 x USB 2.0 type A
LAN
1 x RJ45 Ethernet (Host)
1 x RJ45 Ethernet (option : EMV Payment)
Power Cord Socket
1 x AC Male Power Socket
Power Switch
1 x Power Switch
Mechanical & Environmental
Physical Characteristics
Surface Color Plan
Standard or Customizable by project
Brand Logo
Customizable by project
Dimension (W x H x D mm)
Countertop Version : 500 x 900 x 350
Floorstanding Version : 500 x 1650 x 350
Weight (N.W / KG)
Countertop Version : 41.5KG
Floorstanding Version : 86.5KG
Operation System
OS
Win 10.1 IoT Ent
Environment
Operation Condition
0°C to +35°C / 20% to 80% without condensation
Storage Condition
-5°C to +55°C / 20% to 85% without condensation
Optional Accessories
Standalone Thermal Printer
2" or 3" with cutter
203 dpi and Max. 250 mm/s supported
Mini QR Code Scanner
Fixed mount barcode scanner, 800 x 800 CMOS, White LED
Scan modes : Sense mode, Continuous mode
Optimized to read barcode from a mobile phone screen
Payment Devices
(Floorstanding Version)
Bill Acceptor
Speed : Approx. 3 seconds to cash box
Rate : 96% or greater
Box Capacity : Approx. 500 bills
Bill Accepted : (W) 59~71mm
Bill Insertion : Four-way
Coin Dispenser
Speed: 5~6 (12V DC), 6~8 (24V DC) coins/sec
Coin Capacity: Approx. 500 coins
Applicable Coin Sizes :
▪ A TYPE - (Diameter) 22.5~28mm / (Thickness) 1.6~2.4mm
▪ B TYPE - (Diameter) 20~23mm / (Thickness) 1.6~2.2mm
▪ C TYPE - (Diameter) 23~30mm / (Thickness) 2.5~3.3mm
▪ D TYPE - (Diameter) 23~30mm / (Thickness) 1.6~2.4mm
▪ E TYPE - (Diameter) 17.9~19.7mm / (Thickness) 1.3~1.8mm
▪ F TYPE - (Diameter) 22.5~28mm / (Thickness) 1.0~1.5mm
▪ G TYPE - (Diameter) 20~23mm / (Thickness) 1.2~1.6mm
▪ H TYPE - (Diameter) 28~31mm / (Thickness) 2.0~2.8mm
* Support up to Max. 2 Coin Hoppers
Bill Dispenser
Speed : 2.5 notes/sec
Bill Capacity : Approx. 500 notes (depends on the note thickness)
Bill Accepted:(W) 62~77mm / (L) 120~160mm / (T) 0.08~0.125mm
NFC/RFID Reader
Based on customer requirements
EMV Payment Device Bracket
Based on customer requirements
More Optional
Wi-Fi IEEE 802.11 a/b/g/n/ac (Mini-PCIe) or 4G LTE Module (Mini-PCIe)
UPS (Uninterruptible Power Supply)
Information Rack (Customizable by project)